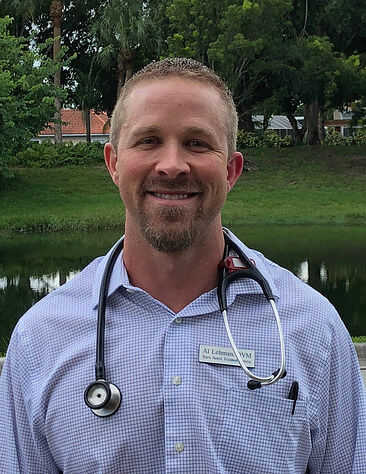 Dr. Al Lehman
Dr. Lehman was born and raised in South Florida. He was introduced to the field of veterinary medicine in 1999 when visiting a clinic for a routine check-up for his adopted kitten. After three years as a veterinary technician, it became evident that his career had chosen him.
In 2007, Dr. Al Lehman graduated from the University of Florida College of Veterinary Medicine. Being a native Floridian, searching for a practice close to family was an easy decision and in 2007 Dr. Lehman joined as an associate at North Naples Veterinary Hospital. With a one-year-old daughter in tow, Al and his wife Tiffany moved to Naples to establish their professional careers.
After practicing as an associate for 11 years, Dr. Lehman purchased North Naples Veterinary Hospital in the summer of 2018. In his limited downtime, Dr. Lehman enjoys lifting weights, fishing, playing softball, and spending time with his wife and two daughters. Go Gators!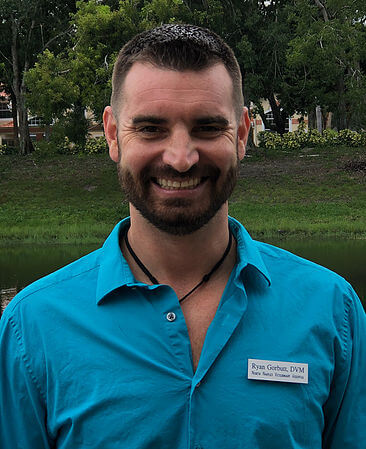 Dr. Ryan Gorbutt
Dr. Ryan Gorbutt spent most of his life in Virginia but he has also lived in Michigan, Florida, Illinois, New York and the Cayman Islands. He has worked in the veterinary field since he was 16 years old as a kennel attendant, veterinary assistant, veterinary receptionist, veterinary technician and an ER veterinary technician.
After graduating from Radford University in 2003, he worked in the clinical research department at Virginia Tech for three years before becoming a veterinarian. He obtained his Doctorate of Veterinary Medicine from St. Matthew's University School of Veterinary Medicine in 2009.
Following graduation from veterinary school, Dr. Gorbutt went on to successfully complete a one-year small animal medicine and surgery internship at New York City Veterinary Specialists and spent five years practicing emergency medicine at Florida Veterinary Referral Center. His professional interests include emergency and critical care medicine, soft tissue surgery, neurology, and wound management.
In his spare time, Dr. Gorbutt takes advantage of southwest Florida's beautiful beaches and weather. He enjoys boating, fishing and golfing while spending time with his girlfriend as well as his Belgian Malinois "Savage", Bengal cat "Raja" and long-haired cat "Cosmo".